WORKSHOP
***
Create unique pieces to decorate your home or give original gifts.
Workshop in English and French


                     The art of porcelain painting is accessible to everyone.                                              You don't have to know how to draw, just have to want to try.                                    The success of a creation depends on know-how and above all                             on a sense of observation.
*
*
*
*
FLeur de Kaolin' offers courses where everyone is free to choose their decor.
Workshop for 6 - 7 students.
# Painting workshop on porcelain.
Each session includes 10 lessons of 3 hours : 
AT THE WORKSHOP in Saint Germain en Laye
     * Tuesday: 9am-12pm and 1pm-4pm
     * Wednesday: 9am-12pm and 6.30pm-9.30pm
     * Friday: 1-4pm
With the association ARTS & CULTURE in Fourqueux
      * Friday: 9am-12pm
.
# Porcelain painting seminars - 2 sessions.
.
# Workshop to create your jewel : porcelain & glass (fusing technique) - 2 sessions. Creation and assembly of the jewel.
.
.
# Come celebrate your ANNIVERSARY with your friends and leave with your creation.
.
# PRIVATIZE the workshop for a particular event.
 .
.
The course includes teaching, documentation and books as well as the firing of the decorations made in the workshop. You will find your piece fired in the next class.
Porcelain and materials for porcelain painting are available for purchase in the workshop.
.
.
The workshop is closed during the school holidays.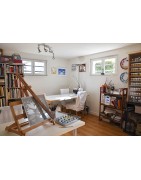 Sorry for the inconvenience.
Search again what you are looking for